Margin Notes: Just Mercy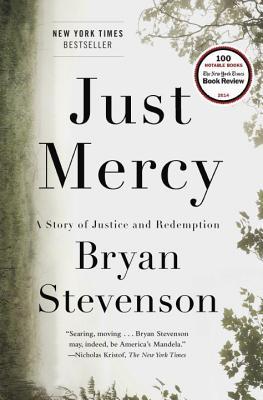 NEW YORK TIMES BESTSELLER • NAMED ONE OF THE TEN BEST NONFICTION BOOKS OF THE YEAR BY TIME • NAMED ONE OF THE BEST BOOKS OF THE YEAR BY THE NEW YORK TIMES BOOK REVIEW, THE WASHINGTON POST, ANDKIRKUS REVIEWS

A powerful true story about the potential for mercy to redeem us, and a clarion call to fix our broken system of justice—from one of the most brilliant and influential lawyers of our time

Bryan Stevenson was a young lawyer when he founded the Equal Justice Initiative, a legal practice dedicated to defending those most desperate and in need: the poor, the wrongly condemned, and women and children trapped in the farthest reaches of our criminal justice system. One of his first cases was that of Walter McMillian, a young man who was sentenced to die for a notorious murder he insisted he didn't commit. The case drew Bryan into a tangle of conspiracy, political machination, and legal brinksmanship—and transformed his understanding of mercy and justice forever.

Just Mercy is at once an unforgettable account of an idealistic, gifted young lawyer's coming of age, a moving window into the lives of those he has defended, and an inspiring argument for compassion in the pursuit of true justice.

Praise for Just Mercy

"Just Mercy is every bit as moving as To Kill a Mockingbird, and in some ways more so. . . . [It] demonstrates, as powerfully as any book on criminal justice that I've ever read, the extent to which brutality, unfairness, and racial bias continue to infect criminal law in the United States. But at the same time that Stevenson tells an utterly damning story of deep-seated and widespread injustice, he also recounts instances of human compassion, understanding, mercy, and justice that offer hope. . . . Just Mercy is a remarkable amalgam, at once a searing indictment of American criminal justice and a stirring testament to the salvation that fighting for the vulnerable sometimes yields."—David Cole, The New York Review of Books

"A searing, moving and infuriating memoir . . . Stevenson may, indeed, be America's Mandela. For decades he has fought judges, prosecutors and police on behalf of those who are impoverished, black or both. . . . Injustice is easy not to notice when it affects people different from ourselves; that helps explain the obliviousness of our own generation to inequity today. We need to wake up. And that is why we need a Mandela in this country."—Nicholas Kristof, The New York Times

"Inspiring . . . a work of style, substance and clarity . . . Stevenson is not only a great lawyer, he's also a gifted writer and storyteller."—The Washington Post

"Unfairness in the justice system is a major theme of our age. . . . This book brings new life to the story by placing it in two affecting contexts: Stevenson's life work and the deep strain of racial injustice in American life. . . . The book extols not his nobility but that of the cause, and reads like a call to action for all that remains to be done."—Ted Conover, The New York Times Book Review

"Not since Atticus Finch has a fearless and committed lawyer made such a difference in the American South. Though larger than life, Atticus exists only in fiction. Bryan Stevenson, however, is very much alive and doing God's work fighting for the poor, the oppressed, the voiceless, the vulnerable, the outcast, and those with no hope. Just Mercy is his inspiring and powerful story."—John Grisham
My rating:
5 of 5 stars
This book is the best book I've read in quite a while.
Bryan Stevenson's compelling story about his experience as a lawyer for inmates on death row and those facing life in prisonment was utterly heartbreaking. I found myself crying for the people he was defending and counseling while in a coffee shop, on the subway, and at the beach. I couldn't help myself--this book seriously affected me.
I read articles about the death penalty, I read articles about false imprisonment, I get angry about miscarriages of justice. I was at Colby when Steve Mills and Maurice Possley won the Lovejoy Award and I had the opportunity to talk to them about their reporting and efforts in Chicago. But Stevenson humanized the people on death row and serving life sentences for me by telling their stories and exposing how simple it is for a miscarriage of justice to occur. He explained in non-legalese how children can be sentenced to life in an adult prison for crimes that adults get 10 years for. He explained the dehumanizing effects of solitary confinement. He picked apart racism, hope, poverty, and community and showed me how all are influences in Justice. He talked about what mercy is--not revenge, and how humanity should affect our sense of mercy and justice, and I agreed.
I could only read this book in small spurts; while it was well-written and compelling, it was too heartbreaking for me. I had to think about something else for a little while.
I highly, highly, highly recommend this book.
View all my reviews