Margin Notes: Summer Reading Suggestions, Breezy Books
It's that fend-off-seagulls, ice cold lemonade, s'mores every night season and we all know that that means... Lots of SPF and some serious reading time. In honor of freckles and sunshine I want to give you my official 2014 list of suggested summer reads. I'm posting these one section at a time over the next week, so keep your eyes peeled for Nostalgia books. Click here to see my first post on
Book Club Books
and here to see my second post on summer
"It" Books
. Keep your eyes peeled for the Nostalgia list!
Breezy Books
Looking for something that's the book equivalent of ice cream? Super enjoyable, fun, and a little bit indulgent? Have I got some reads for you.
Crazy Rich Asians
is the outrageously funny debut novel about three super-rich, pedigreed Chinese families and the gossip, backbiting, and scheming that occurs when the heir to one of the most massive fortunes in Asia brings home his ABC (American-born Chinese) girlfriend to the wedding of the season.
When Rachel Chu agrees to spend the summer in Singapore with her boyfriend, Nicholas Young, she envisions a humble family home, long drives to explore the island, and quality time with the man she might one day marry. What she doesn't know is that Nick's family home happens to look like a palace, that she'll ride in more private planes than cars, and that with one of Asia's most eligible bachelors on her arm, Rachel might as well have a target on her back. Initiated into a world of dynastic splendor beyond imagination, Rachel meets Astrid, the It Girl of Singapore society; Eddie, whose family practically lives in the pages of the Hong Kong socialite magazines; and Eleanor, Nick's formidable mother, a woman who has very strong feelings about who her son should--and should not--marry. Uproarious, addictive, and filled with jaw-dropping opulence,
Crazy Rich Asians
is an insider's look at the Asian JetSet; a perfect depiction of the clash between old money and new money; between Overseas Chinese and Mainland Chinese; and a fabulous novel about what it means to be young, in love, and gloriously,
crazily
rich.
Outrageous is the perfect way to describe this book.
I really enjoyed reading this book! It was so readable, the characters were really well composed, it gave me a peak into a world that I had no idea existed... It's so money-centric, gossipy, and status-y that it felt like I was on a different planet and I enjoyed every moment of it! Can't believe this kind of stuff actually exists!!
Two misfits.
One extraordinary love.

Eleanor
... Red hair, wrong clothes. Standing behind him until he turns his head. Lying beside him until he wakes up. Making everyone else seem drabber and flatter and never good enough...Eleanor.
Park
... He knows she'll love a song before he plays it for her. He laughs at her jokes before she ever gets to the punch line. There's a place on his chest, just below his throat, that makes her want to keep promises...Park.
Set over the course of one school year, this is the story of two star-crossed sixteen-year-olds—smart enough to know that first love almost never lasts, but brave and desperate enough to try.
YA for life! I loved the characters in this book (both main and secondary characters). Eleanor and Park were quirky, their relationship was intense (like love is in high school), but I totally bought it. It might be a little over the top dramatic for some people's taste, but I really enjoyed it!! Perfect for wasting away a day at the beach.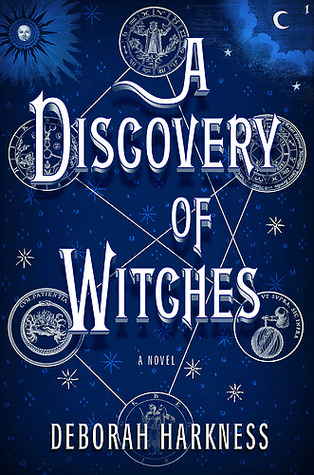 A Discovery of Witches by Deborah Harkness
Deep in the stacks of Oxford's Bodleian Library, young scholar Diana Bishop unwittingly calls up a bewitched alchemical manuscript in the course of her research. Descended from an old and distinguished line of witches, Diana wants nothing to do with sorcery; so after a furtive glance and a few notes, she banishes the book to the stacks. But her discovery sets a fantastical underworld stirring, and a horde of daemons, witches, and vampires soon descends upon the library. Diana has stumbled upon a coveted treasure lost for centuries-and she is the only creature who can break its spell.
Debut novelist Deborah Harkness has crafted a mesmerizing and addictive read, equal parts history and magic, romance and suspense. Diana is a bold heroine who meets her equal in vampire geneticist Matthew Clairmont, and gradually warms up to him as their alliance deepens into an intimacy that violates age-old taboos. This smart, sophisticated story harks back to the novels of Anne Rice, but it is as contemporary and sensual as the
Twilight
series-with an extra serving of historical realism.
My friend Grace recommended this to me, and I'm so glad she did!! It's a but mystical, a bit crazy, but totally awesome and a fun read. If you liked Harry Potter / Twilight etc. definitely check this one out.
Eddie Huang is the thirty-year-old proprietor of Baohaus—the hot East Village hangout where foodies, stoners, and students come to stuff their faces with delicious Taiwanese street food late into the night—and one of the food world's brightest and most controversial young stars. But before he created the perfect home for himself in a small patch of downtown New York, Eddie wandered the American wilderness looking for a place to call his own.
Eddie grew up in theme-park America, on a could-be-anywhere cul-de-sac in suburban Orlando, raised by a wild family of FOB ("fresh off the boat") hustlers and hysterics from Taiwan. While his father improbably launched a series of successful seafood and steak restaurants, Eddie burned his way through American culture, defying every "model minority" stereotype along the way. He obsessed over football, fought the All-American boys who called him a chink, partied like a gremlin, sold drugs with his crew, and idolized Tupac. His anchor through it all was food—from making Southern ribs (and scoring drugs) with the Haitian cooks in his dad's restaurant to preparing traditional meals in his mother's kitchen to haunting the midnight markets of Taipei when he was shipped off to the homeland. After misadventures as an unlikely lawyer, street fashion renegade, and stand-up comic, Eddie finally threw everything he loved—past and present, family and food—into his own restaurant, bringing together a legacy stretching back to China and the shards of global culture he'd melded into his own identity.
Funny, raw, and moving, and told in an irrepressibly alive and original voice,
Fresh Off the Boat
recasts the immigrant's story for the twenty-first century—it's a story of food, family, and the forging of a new notion of what it means to be American.

This book isn't for everyone. It's written in street dialect and littered with references to hip hop artists and basketball stars. I loved every second of it. I think foodies, guys, and children of immigrants will appreciate this. I totally loved it and it was a super fun read.
What would you add to this list? Have you read any of these?
Come back later for more Summer Reading Installments...