Margin Notes: Summer Reads so Far
So far nothing has blown me away this summer, but there have been some great beach reads...


The Storied Life of A. J. Fikry
4 of 5 stars
On the faded Island Books sign hanging over the porch of the Victorian cottage is the motto "No Man Is an Island; Every Book Is a World." A. J. Fikry, the irascible owner, is about to discover just what that truly means.

A. J. Fikry's life is not at all what he expected it to be. His wife has died, his bookstore is experiencing the worst sales in its history, and now his prized possession, a rare collection of Poe poems, has been stolen. Slowly but surely, he is isolating himself from all the people of Alice Island-from Lambiase, the well-intentioned police officer who's always felt kindly toward Fikry; from Ismay, his sister-in-law who is hell-bent on saving him from his dreary self; from Amelia, the lovely and idealistic (if eccentric) Knightley Press sales rep who keeps on taking the ferry over to Alice Island, refusing to be deterred by A.J.'s bad attitude. Even the books in his store have stopped holding pleasure for him. These days, A.J. can only see them as a sign of a world that is changing too rapidly.

And then a mysterious package appears at the bookstore. It's a small package, but large in weight. It's that unexpected arrival that gives A. J. Fikry the opportunity to make his life over, the ability to see everything anew. It doesn't take long for the locals to notice the change overcoming A.J.; or for that determined sales rep, Amelia, to see her curmudgeonly client in a new light; or for the wisdom of all those books to become again the lifeblood of A.J.'s world; or for everything to twist again into a version of his life that he didn't see coming. As surprising as it is moving, The Storied Life of A. J. Fikry is an unforgettable tale of transformation and second chances, an irresistible affirmation of why we read, and why we love.
I enjoyed this book! Probably a 3.5-er. Sweet characters, a tidy plot, a book about books and love and family. One part of this book that really hit home for me was how a book shop can change a community--the way it sparks book clubs, the way it anchors life, the way people gravitate toward it. My favorite character was actually a tertiary character, too. The sheriff. I thought he was interesting, round, thoughtful, and just a great character. I also loved Leona, the true author. I wish something more happened with her character. I recommend this book to book nerds (loved the notes about books), New Englanders, and people who want to sneak a peak into the book shop / literary life.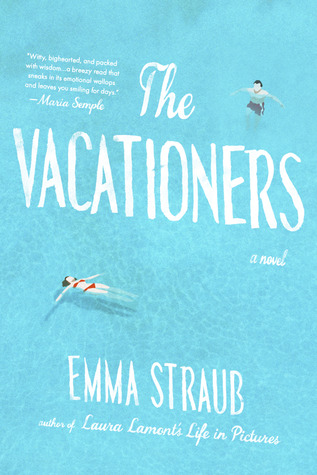 The Vacationers
by
Emma Straub
My rating:
3 of 5 stars
An irresistible, deftly observed novel about the secrets, joys, and jealousies that rise to the surface over the course of an American family's two-week stay in Mallorca.
For the Posts, a two-week trip to the Balearic island of Mallorca with their extended family and friends is a celebration: Franny and Jim are observing their thirty-fifth wedding anniversary, and their daughter, Sylvia, has graduated from high school. The sunlit island, its mountains and beaches, its tapas and tennis courts, also promise an escape from the tensions simmering at home in Manhattan. But all does not go according to plan: over the course of the vacation, secrets come to light, old and new humiliations are experienced, childhood rivalries resurface, and ancient wounds are exacerbated.
This is a story of the sides of ourselves that we choose to show and those we try to conceal, of the ways we tear each other down and build each other up again, and the bonds that ultimately hold us together. With wry humor and tremendous heart, Emma Straub delivers a richly satisfying story of a family in the midst of a maelstrom of change, emerging irrevocably altered yet whole.
I enjoyed this book. It was a good summer beach book, but nothing memorable. Certainly readable. Everything culminated at the same time and as expected. Characters were interesting, but not revelations. Fun, interesting, absolutely readable. Perfect for next to the pool.