Margin notes: Catching up with Harry (and his kids)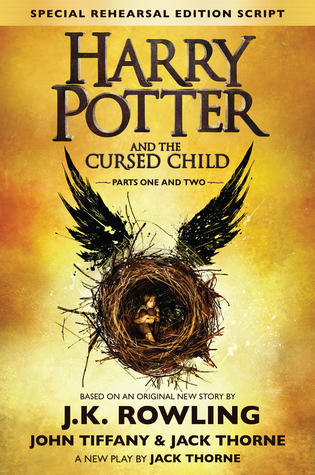 by J.K. Rowling, John Tiffany, and Jack Thorne
The Eighth Story. Nineteen Years Later.
Based on an original new story by J.K. Rowling, Jack Thorne and John Tiffany, a new play by Jack Thorne,
Harry Potter and the Cursed Child
is the eighth story in the Harry Potter series and the first official Harry Potter story to be presented on stage. The play will receive its world premiere in London's West End on July 30, 2016.
It was always difficult being Harry Potter and it isn't much easier now that he is an overworked employee of the Ministry of Magic, a husband and father of three school-age children.
While Harry grapples with a past that refuses to stay where it belongs, his youngest son Albus must struggle with the weight of a family legacy he never wanted. As past and present fuse ominously, both father and son learn the uncomfortable truth: sometimes, darkness comes from unexpected places.
I'd give this a 3.5. I was so very excited to hear from some of my favorite characters, but the focus is definitely on the next generation. It was a thoughtful and fun plot, but since it's a play, the characters felt a bit flat at times--and even relied on our knowledge of the adults to pull the plot along. I loved Albus and Scorpious, and I really liked the adult reconciliation between Malfoy and the gang, but it just wasn't quite *there* for me.
I ran right through this book and didn't mind one bit that it was a play--great directions and a solid understanding of the people and the roles certainly helped. The messing with time (and thus, things I have read about and seen in the movies) certainly helped set the place.
Definitely a fun read for any Harry Potter fans, but it's hard to live up to our earlier HP books.
View all my reviews