What to watch: Feud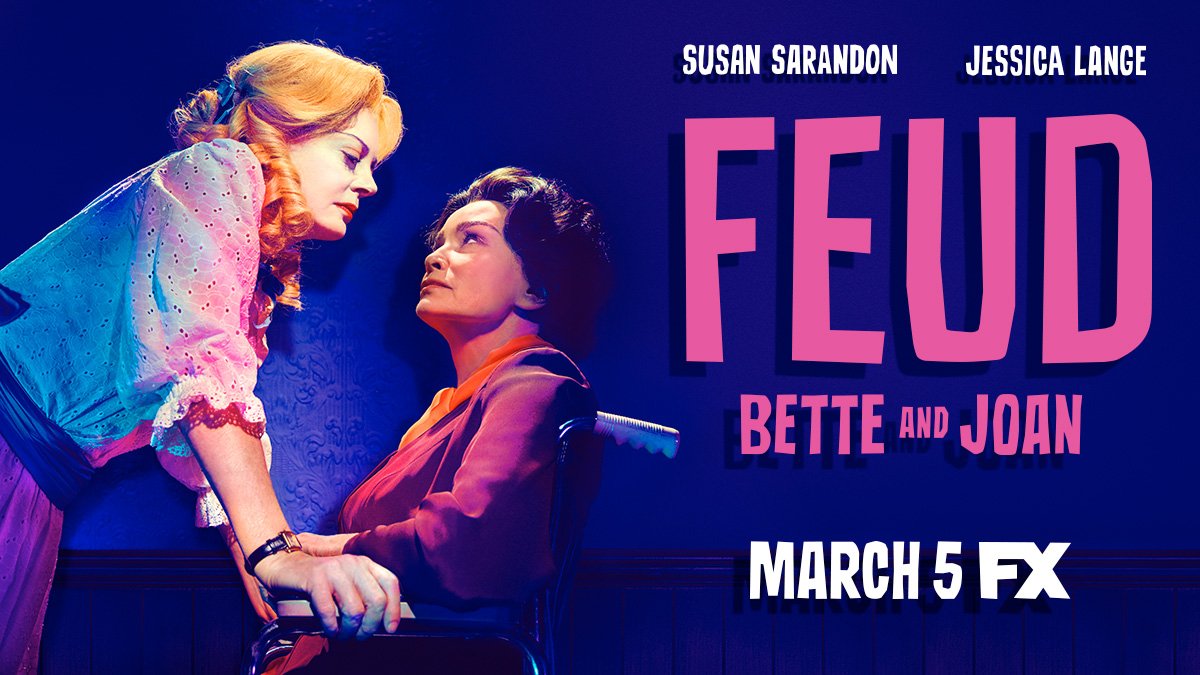 Honestly, I'm not really a Susan Sarandon fan. I think it's more her real-life extremism than her acting chops, though (I love Stepmom, Little Women, and Dead Man Walking--admission, I've never seen Thelma and Louise). So, when I saw the premise for Feud and was intrigued, I sighed when I saw Sarandon was in it. But let me tell you, she is excellent in it.
I put it on on Sunday evening just looking for something to play in the background as I unpacked my groceries, I turned On Demand on and it was highlighting Feud. I'd heard about it, but wasn't that interested. I heard that there was an interesting story here, so I decided to bite.
Well. I was surprised. This story and the acting are excellent. FX is kinda killing it lately! (The Americans, I totally loved the Bridge from a couple years ago, Atlanta, Sons of Anarchy, People keep talking about Fargo, this, Legion-a new show that is super weird but also beautiful.
Feud is a weird, true story--about battling, aging leading ladies, Bette Davis and Joan Crawford, who live in a world where they have no power and must rely on each other (their rivals) while at the same time undermining them. They're both a little crazy and both are ambitious, which makes them cutthroat and manipulative--the story shows us that they have to be manipulative, there's no alternative in this money-hungry, male-dominated Hollywood. Every time they're close to seeing how much they have in common and starting a friendship, someone undermines it--an executive or a gossip reporter. It's really sad in that respect. Susan Sarandon plays Bette Davis, Jessica Lange plays Joan Crawford. Both are incredibly effective. The costumes, the conflict, the set--you really believe that these two well known actresses are Joan and Bette.
The show is primarily a flashback, set up by a documentary that's filmed years later--with Kathy Bates and Catherine Zeta Jones as starlets looking back on the feud.
The supporting cast is equally wonderful: Stanley Tucci as the studio head, Alfred Molina as the director, Judy Davis as the gossip columnist Hedda Hopper, Allison Wright, Jackie Hoffman (as Mamacita, which is the weirdest name ever), Kiernan Shipka as Bette Davis' daughter. It's really an impressive cast.
I'm three episodes in and can't wait for the next. It's weird, kitschy, but totally believable and immersive. I think this might have Emmy potential!!
Have you seen it? What do you think?