Margin Notes: The Nightingale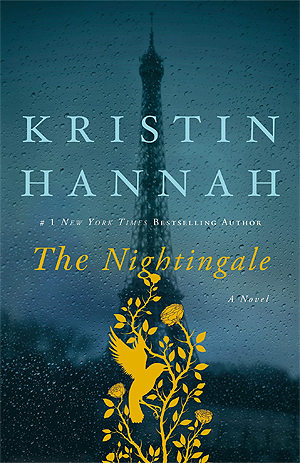 by Kristin Hannah
In love we find out who we want to be.
In war we find out who we are.
FRANCE, 1939

In the quiet village of Carriveau, Vianne Mauriac says goodbye to her husband, Antoine, as he heads for the Front. She doesn't believe that the Nazis will invade France...but invade they do, in droves of marching soldiers, in caravans of trucks and tanks, in planes that fill the skies and drop bombs upon the innocent. When France is overrun, Vianne is forced to take an enemy into her house, and suddenly her every move is watched; her life and her child's life is at constant risk. Without food or money or hope, as danger escalates around her, she must make one terrible choice after another.

Vianne's sister, Isabelle, is a rebellious eighteen-year-old girl, searching for purpose with all the reckless passion of youth. While thousands of Parisians march into the unknown terrors of war, she meets the compelling and mysterious Gäetan, a partisan who believes the French can fight the Nazis from within France, and she falls in love as only the young can...completely. When he betrays her, Isabelle races headlong into danger and joins the Resistance, never looking back or giving a thought to the real--and deadly--consequences.
With courage, grace and powerful insight, bestselling author Kristin Hannah takes her talented pen to the epic panorama of WWII and illuminates an intimate part of history seldom seen: the women's war. The Nightingale tells the stories of two sisters, separated by years and experience, by ideals, passion and circumstance, each embarking on her own dangerous path toward survival, love, and freedom in German-occupied, war-torn France--a heartbreakingly beautiful novel that celebrates the resilience of the human spirit and the durability of women. It is a novel for everyone, a novel for a lifetime.
My rating: 3 of 5 stars
This was an quick, page-turner of a book.
It's a WWII book about the Nazi occupation of France. It follows two, very different, sisters, Vianne (which I read as Vivianne for the longest time!) and Isabelle. The girls' mom died when they were young and their father shipped them off to live with a mean stranger near their family's country home in the Loire Valley. Vianne finds new friends and falls in love, Isabelle becomes a bit rebellious. When France is occupied Vianne struggles as her husband goes to war, as more restrictions happen, as Nazi soldiers were billeted at their home, she struggles to keep her daughter safe. Isabelle instead becomes part of the rebel forces and is nicknames The Nightingale. We follow the WWII story from both women's perspective and the current day story from that woman's perspective.
My favorite part of the story was the part that took place in WWII. I found it compelling and interesting. The characters were nuanced and flawed (though I had wasn't fully immersed in the characters and always thought of them as characters, not people).
There's a forced mystery between the past and present (the story is of two French sisters during the Nazi occupation and you're not sure which one is narrating present story line until the last chapter). I didn't love that it felt like the author was playing gotcha with the reader--it took me out of the actual timeline of the plot and reminded me of one of my creative writing class no-nos. The past/present divide is prevalent in contemporary literature (Sarah's Key comes to mind as one that is very similar).
While the plot was really compelling and I really wanted to read the next chapter, I'm not sure this book will stick with me as much as other WWII novels that I love--All The Light We Cannot See, The Guernsey Literary and Potato Peel Pie Society, Skeletons at the Feast, The Boy in the Striped Pajamas, Atonement, Number the Stars. I often talk about the importance of plot to me, but I also care about writing, and I think that while this is good, it's just a step below some of the other WWII books I've read. It almost feels like the sad equivalent of what I term a beach read. It's easy reading.
View all my reviews
P.S.
As part of my plan to read more poetry, I'm thinking of picking a poet every week or couple of weeks so and reading a few poems by that person.

This week I was reading about Oscar nominees takes on their nomination and one mentioned that Mark Rylance has accepted awards in the past by quoting poet Louis Jenkins. So, I Googled him.

He is a prose poet, which was a new term to me, but which makes sense once you read a few of his poems. I found his poetry raw, tangential, and colloquial (I think that's where the prose comes in). It's full of energy, dry humor, and a sense of pragmatism. It's not flowery or pretty. It really has a male quality to it, which seems like a weird generalization, but if I picked this poem up and the name of the author were hidden, I'd know it was male where that's not always true of authors.

Here are links to a couple of his poems I enjoyed:
Paradise
by Louis Jenkins
(scroll to the bottom)