Margin Notes: I'll Give You the Sun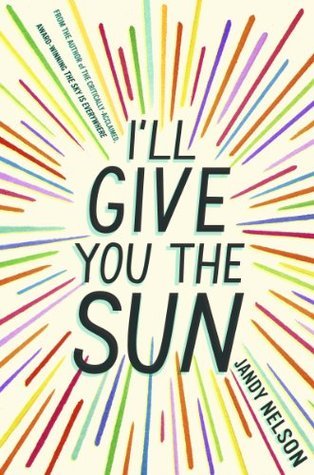 I'll Give You the Sun
by Jandy Nelson
A brilliant, luminous story of first love, family, loss, and betrayal for fans of John Green, David Levithan, and Rainbow Rowell
Jude and her twin brother, Noah, are incredibly close. At thirteen, isolated Noah draws constantly and is falling in love with the charismatic boy next door, while daredevil Jude cliff-dives and wears red-red lipstick and does the talking for both of them. But three years later, Jude and Noah are barely speaking. Something has happened to wreck the twins in different and dramatic ways . . . until Jude meets a cocky, broken, beautiful boy, as well as someone else—an even more unpredictable new force in her life. The early years are Noah's story to tell. The later years are Jude's. What the twins don't realize is that they each have only half the story, and if they could just find their way back to one another, they'd have a chance to remake their world.
This radiant novel from the acclaimed, award-winning author of
The Sky Is Everywhere
will leave you breathless and teary and laughing—often all at once.
My rating: 4 of 5 stars
I read this book at a quick clip. I'd seen it reviewed but didn't really know what it was about before diving in. It tells the story of twins lives from the age of 13-16 when a lot happens and a lot changes. I'm reviewing this today without book breaking spoilers for some reason.
I really thought the characters in this book were well developed, from the twins to the sculptor to the love interests to their mom and dad, even to the 'ghosts' Jude interacts with.
The plot was great--it's about two smart, creative, thoughtful teens coming of age. Noah starts out as the guy on the outskirts, a weird kid who curls into himself rather than venturing out. He gets teased. He's very artistic, and he's trying to figure out how to be himself in the world. Jude is popular and has tons of friends, she's a bit of a wild child. She and her grandmother were very close--the grandmother has died recently and always told Jude she had the family ability of something slightly magical. She believes in charms and has a relationship with her grandmother's ghost. She and Noah are best friends, but are competitive at the same time. They're both artistic, although Noah is a little more vocal about it. We follow them through decisions that change their lives, through lies they tell, truths they omit, and follow their relationship with each other and themselves as they go through it all. The language is smart, these aren't your typical teens. the secondary characters are equally bright. I loved Noah's relationship with his father, Jude's relationship with her mother (and vice versa). I loved the quirky astronomy loving, baseball phenom Brian. I really enjoyed the English model (whose name is escaping me...) and his tough life. And of course, Jude's sculptor mentor. What a character. He was so full of life and so vivid. That story line tore my heart a little. Maybe because I'm an adult... it was good. I cried and laughed and really enjoyed it!
The only part that left me a little iffy is Jude's 'relationship' with Zephyr. That felt like it needed to be examined from Jude's perspective a little more. When the 'big event' happens, Noah is telling the story so we don't hear first hand from Jude about what happened until much, much later. Just really pages before Jude's big realization where she takes control of her life (which happens at a bit of a breakneck pace if I'm being honest) we find out what happened. I wanted more time to (for lack of a better word) digest what happened to her and wanted more info about how she felt during it all. I needed that because I could have given her a little more sympathy if I had it.
That being said, I really enjoyed this and recommend it to people who like Rainbow Rowell, John Green, and any YA with strong quirky characters.
View all my reviews
(HA, just realizing that the last paragraph of my review matches the description of the book as I'm putting this post together. Must be right! :))