Margin Notes: Station Eleven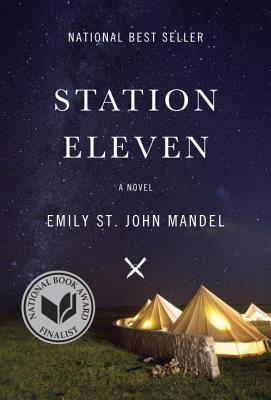 Station Eleven by Emily St. John Mandel
An audacious, darkly glittering novel about art, fame, and ambition set in the eerie days of civilization's collapse, from the author of three highly acclaimed previous novels.

One snowy night a famous Hollywood actor slumps over and dies onstage during a production of King Lear. Hours later, the world as we know it begins to dissolve. Moving back and forth in time-from the actor's early days as a film star to fifteen years in the future, when a theater troupe known as the Traveling Symphony roams the wasteland of what remains-this suspenseful, elegiac, spellbinding novel charts the strange twists of fate that connect five people: the actor, the man who tried to save him, the actor's first wife, his oldest friend, and a young actress with the Traveling Symphony, caught in the crosshairs of a dangerous self-proclaimed prophet. Sometimes terrifying, sometimes tender, Station Eleven tells a story about the relationships that sustain us, the ephemeral nature of fame, and the beauty of the world as we know it.
My rating: 5 of 5 stars
I read so many wonderful things about this book I was thrilled when my book club decided to read it for October, but also apprehensive. Could this book live up to the hype?
In an answer, yes.
This writing was beautiful. In taking on a story that could have been harsh, completely plot driven, or sensationalistic, Emily St. John Mandel instead wrote something beautiful, elegiac, strong. I loved her style of writing and thought it carried the book through timeline transitions (flashbacks), point of view changes, and plot builds in a beautiful way. Despite a plot full of devastation, mass death, violence, nostalgia, and survival this book ultimately felt quiet and that's why is succeeded so well for me. (It was odd that this book came out when the ebola outbreak began to get media attention, but was really fortuitous and made me examine it in a different way).
This book starts with the opening of King Lear, the man who plays Lear, Arthur Leander, has a heart attack and dies on stage. That night, a flu takes over the world and kills most people in the world. We follow specific people through the rest of the story--all who have some sort of connection to Arthur Leander. The man who tried to resuscitate him on stage, a little girl who was part of the cast, his ex wife, another of his ex wives, his longtime friend... We flashback to pre-flu with some of them and follow their lives in the post flu world. What is important to them? Survival is insufficient. The little girl is now part of a traveling theater / orchestra group. The old friend survives in an airport and has a museum of things from pre-flu. One of his ex wives wrote a comic book called Station Eleven that almost parallels their current situation in an odd way. The characters are beautifully written, poignant, and interesting.
I really enjoyed this book and recommend it to those who like post- apocalyptic stories, but also those who like beautiful prose and rich characters.
View all my reviews