Margin Notes: Eight Hundred Grapes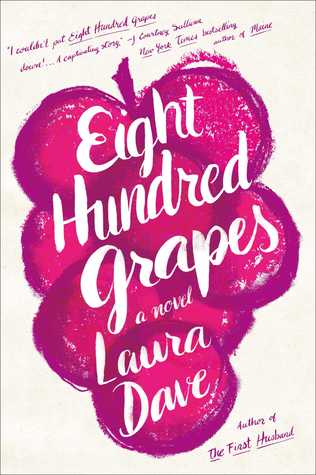 There are secrets you share, and secrets you hide…
Growing up on her family's Sonoma vineyard, Georgia Ford learned some important secrets. The secret number of grapes it takes to make a bottle of wine: eight hundred. The secret ingredient in her mother's lasagna: chocolate. The secret behind ending a fight: hold hands.
But just a week before her wedding, thirty-year-old Georgia discovers her beloved fiancé has been keeping a secret so explosive, it will change their lives forever.
Georgia does what she's always done: she returns to the family vineyard, expecting the comfort of her long-married parents, and her brothers, and everything familiar. But it turns out her fiancé is not the only one who's been keeping secrets…
My rating: 3 of 5 stars
I thoroughly enjoyed this book. I'd give it a 3.5--enjoyable! Perfect for travel. Perfect for the beach and a fun read.
I've been slogging through a book for a couple weeks and went to spend my last beach day on the beach, so brought this along instead. I'm so happy I did! Compelling plot (family drama, wedding drama, pretty much a tornado of doom descends on this family). Some characters are interesting--our main character, her parents, her fiancees daughter, her sister in law. Some are less so (her fiancee, her brothers...). Great setting--Sonoma. I'm interested in Wine and interested in wine country, so this was fun in that regard. Some plot devices felt device-y (the fire, the separation).
All in all: a great, quick, fun read.
View all my reviews
NOTE: it's banned book week, but there aren't that many banned books anymore. WE WIN. Read whatever you want, good, bad, fiction, non fiction, young adult, mystery, fantasy, scientific, how to, self-help, cookbooks, gardening books, WHATEVER. So enjoy this freedom, it's pretty rad and we should revel in it.