Margin Notes: The Bone Gap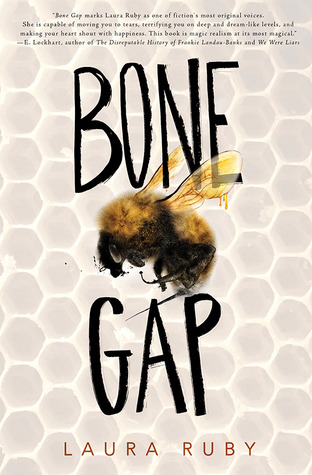 Everyone knows Bone Gap is full of gaps—gaps to trip you up, gaps to slide through so you can disappear forever. So when young, beautiful Roza went missing, the people of Bone Gap weren't surprised. After all, it wasn't the first time that someone had slipped away and left Finn and Sean O'Sullivan on their own. Just a few years before, their mother had high-tailed it to Oregon for a brand new guy, a brand new life. That's just how things go, the people said. Who are you going to blame?
Finn knows that's not what happened with Roza. He knows she was kidnapped, ripped from the cornfields by a dangerous man whose face he cannot remember. But the searches turned up nothing, and no one believes him anymore. Not even Sean, who has more reason to find Roza than anyone, and every reason to blame Finn for letting her go.
As we follow the stories of Finn, Roza, and the people of Bone Gap—their melancholy pasts, their terrifying presents, their uncertain futures—acclaimed author Laura Ruby weaves a heartbreaking tale of love and loss, magic and mystery, regret and forgiveness—a story about how the face the world sees is never the sum of who we are.
My rating: 4 of 5 stars
I picked this book up because it won the Printz and I'm a YA fan, so it seemed like a good bet. I didn't read much about it in advance of jumping in, so I didn't realize that it had an element of magical realism. It threw me off for a bit (the castle was the first hint and really pulled me out of the story to think, what the heck is going on here?) but once I regained my footing and understood where we were going, I enjoyed it.
While I read mythology in elementary and high school many years ago, the story that this pulls elements from, Persephone, wasn't one that stuck with me (the beast, I seem to recall, was part of the plot. I don't remember anything about corn stalks, thought maybe that was part of it? And the gap must have been, but it just didn't light up my memory at all. Maybe bees were part of the myth, too?). Some of those elements that hearkened back to the myth felt either a little forced or just out of left field to me, but I'm sure that was just because I don't remember the finer points of the myths the author was invoking.
I loved the language of this book--it was lush and beautiful. There's a theme of Other People in this book--what do others think of you vs. what do you think of yourself (the Rudes, Sean, Roza, Finn, Petey, Charlie Valentine). It's interesting and something that makes sense to include in a YA book.
The sense of setting was really strong--it's a rural landscape complete with farms, country roads, fairs, chicken's, and bales of hay.
The characters seemed real, if slightly otherworldly/characterized, too. (view spoiler)[ The four characters that make up the main love story--Petey and Finn, Sean and Roza) were lovely. I thought Petey was fierce and fun, I liked that her character was misunderstood but that Finn got her. I liked that she was hard to pin down and made brash judgments. Her mom was lovely (if slightly unrealistic), too. I caught onto the face blindness thing early on, and it was an interesting element to add to the story. I thought Finn was an interesting character--his best friend Miguel was a fun counter balance to him. I loved their banter about girls and bullies and school and corn. Petey and Finn's relationship is exactly what you want as a high schooler--the cool if unique looking girl gets the boy, they have a fun banter about college essays, they slowly fall in love with hiccups along the way and their love seems strong. I thought it was just so lovely. Roza was lovely--from her life in Poland to her life in the US and her gradual love of the boys, her work in the garden, and her attitude about life. We only really see Sean post-Roza until close to the end of the book. Based on other character's impressions of Sean, we know he's a great guy. Based on what he did for Finn and Roza we know he's a great guy. We only see him as a depressed, confused, shell of himself.

Overall, my favorite parts of this plot were the non-magical parts--Petey and Finn falling in love, Finn discovering his condition, Roza coming back to life at the farm, Finn and Miguel building the fence. I wanted some vindication--the guy who kidnapped Roza to be put in jail, caught, made to answer for his crimes. But, since he's basically Hades, we can't get that. So that little piece of the story felt like a lost opportunity for justice, to me. (hide spoiler)] The story was great, the writing was wonderful, and I did, ultimately, enjoy this book.
View all my reviews