Margin Notes/Big Screen COMBO post: Me Before You
I read Me Before You a couple years ago an never got around to posting my review, which I just noticed when I watched the new extended trailer for the movie that's coming out. Perfect opportunity for a post.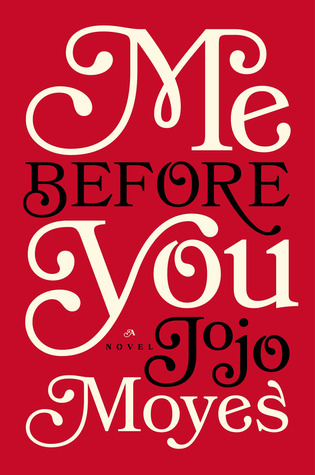 Lou Clark knows lots of things. She knows how many footsteps there are between the bus stop and home. She knows she likes working in The Buttered Bun tea shop and she knows she might not love her boyfriend Patrick.
What Lou doesn't know is she's about to lose her job or that knowing what's coming is what keeps her sane.
Will Traynor knows his motorcycle accident took away his desire to live. He knows everything feels very small and rather joyless now and he knows exactly how he's going to put a stop to that.
What Will doesn't know is that Lou is about to burst into his world in a riot of colour. And neither of them knows they're going to change the other for all time.
My rating: 3 of 5 stars
This is one of those books where you ugly cry if you're a crier. The story is good, the characters are interesting, and the plot goes just where you think it will but hope it won't.
The writing is light, it's an easy-read and the last 50 pages or so are super emotional. You really root for the main characters--Lou and Will. I enjoyed getting to know them. I'd recommend this book to people who like drama, romance, and something plot-driven and emotional. I think it could be interesting for a book group to discuss. It's not literary, but it's engaging.
Me Before You is a great story about a British woman, Lou, who lives in a small town, dates a sub-par guy, and is trying to make ends meet. She looses her job and goes to work for Will (well, really his parents). Lou takes care of him and is supposed to help bolster his spirit. Will used to be a really active guy, full of life, and he was in a motorcycle accident that left him paralyzed. He's depressed and sad and in pain these days. It's about their relationship--patient/caregiver, friend/friend,(view spoiler)[man/woman (hide spoiler)] and the rest of the characters in the book kind of fall away.
(view spoiler)
[As you learn about Will and the kind of pain he's in, and it becomes clear that this book is going to have an assisted suicide bent, it's almost too sad to move forward. While you're rooting for the couple, you also know what's inevitable--once death is in the story line, you know at least one of them is going down. I think Jojo Moyes did a great job humanizing pain and talking about options in a way that really made you think. (hide spoiler)]
Overall, I'm not one for crying tears for a story that felt like it lived on the surface, but I did like it.
Note: I'm glad they're making this into a movie and that they chose great actors for the cast. I think it will do really well on the big screen and spark some interesting conversations.
View all my reviews
Now, see the trailer (featuring my fav, Emilia Clarke of Game of Thrones fame) below:
From the YouTube Page:
Often times you find love where you least expect it. Sometimes it takes you where you never expected to go…
Louisa "Lou" Clark (Clarke) lives in a quaint town in the English countryside. With no clear direction in her life, the quirky and creative 26-year-old goes from one job to the next in order to help her tight-knit family make ends meet.
Her normally cheery outlook is put to the test, however, when she faces her newest career challenge. Taking a job at the local "castle," she becomes caregiver and companion to Will Traynor (Claflin), a wealthy young banker who became wheelchair bound in an accident two years prior, and whose whole world changed dramatically in the blink of an eye. No longer the adventurous soul he once was, the now cynical Will has all but given up. That is until Lou determines to show him that life is worth living. Embarking together on a series of adventures, both Lou and Will get more than they bargained for, and find their lives—and hearts—changing in ways neither one could have imagined.