Margin Notes: The Miniaturist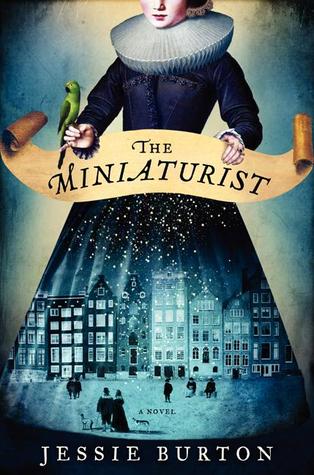 The Miniaturist by Jessie Burton
Set in seventeenth century Amsterdam-a city ruled by glittering wealth and oppressive religion-a masterful debut steeped in atmosphere and shimmering with mystery, in the tradition of Emma Donoghue, Sarah Waters, and Sarah Dunant.
"There is nothing hidden that will not be revealed…"
On a brisk autumn day in 1686, eighteen-year-old Nella Oortman arrives in Amsterdam to begin a new life as the wife of illustrious merchant trader Johannes Brandt. But her new home, while splendorous, is not welcoming. Johannes is kind yet distant, always locked in his study or at his warehouse office-leaving Nella alone with his sister, the sharp-tongued and forbidding Marin.
But Nella's world changes when Johannes presents her with an extraordinary wedding gift: a cabinet-sized replica of their home. To furnish her gift, Nella engages the services of a miniaturist-an elusive and enigmatic artist whose tiny creations mirror their real-life counterparts in eerie and unexpected ways . . .
Johannes' gift helps Nella to pierce the closed world of the Brandt household. But as she uncovers its unusual secrets, she begins to understand-and fear-the escalating dangers that await them all. In this repressively pious society where gold is worshipped second only to God, to be different is a threat to the moral fabric of society, and not even a man as rich as Johannes is safe. Only one person seems to see the fate that awaits them. Is the miniaturist the key to their salvation . . . or the architect of their destruction?
Enchanting, beautiful, and exquisitely suspenseful, The Miniaturist is a magnificent story of love and obsession, betrayal and retribution, appearance and truth.
My rating: 4 of 5 stars
If I could do half stars, this would be a 3.5, better than average, but not as wonderful as I felt it could have been.
The Miniaturist is very well written. The language is beautiful, the characters are round, the setting of 17th century Amsterdam was really interesting. The social structure along with it's challenges, the expectations of people, the wealth, really well without being overdone. I really enjoyed learning about the characters--Nella arrives in Amsterdam wed to a wealthy tradesman she barely knows named Johannes Brandt. Her father died and left her family with debt, so she is their saviour. Her last name is an old one and is helpful to the brandt family. She is frostily welcomed into his home by his sister, Marin, who lives there and has ruled the roost for awhile. They have a maid / cook who was an orphan, and Johannes' man--a black man he seemingly rescued from a slave ship. They're relatively progressive in that way. There are other tradesmen who Johannes spars with. A family that is trying to have him sell their sugar. There's a woman who creates miniatures for a miniature cabinet that looks just like their home. The miniatures she sends seem to foretell things that are going to happen, eerily. However, her part in the story felt forced at times and it didn't really go full fledged for the magical realism it could have.
The plot was what left me a little cold--I felt like it didn't follow-through on all the promise it had. It almost peaked, but there was no real denouement. Some of the plot felt unearned (view spoiler)[ like Nella's ability to take on the business deal--that felt like it wouldn't have happened during the time period it took place in. The love between Marin and the servant seemed far fetched, too. Especially with Marin's sense of entitlement. (hide spoiler)] And I wish the story started a little earlier and went a little longer. It felt novella-like to me, despite the length of the book.
The world kind of falls apart all around Nella, and while she sort of steps up to the challenge, I wanted to understand a little more of her grit and motivation. Because she's so naive and the story is told from her perspective, we don't get a lot of the depth/motivation behind the other characters that I would have appreciated in the story and might have made it hit closer to my heart.
Overall, I enjoyed the book and thought the writing and characters made it a worthwhile read. It just wasn't memorable. I'll definitely read a second book by this author, good promise here.
View all my reviews