Margin notes: My Salinger Year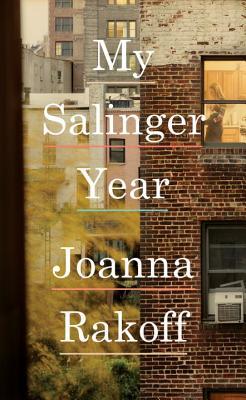 My Salinger Year
Poignant, keenly observed, and irresistibly funny: a memoir about literary New York in the late nineties, a pre-digital world on the cusp of vanishing, where a young woman finds herself entangled with one of the last great figures of the century.

At twenty-three, after leaving graduate school to pursue her dreams of becoming a poet, Joanna Rakoff moves to New York City and takes a job as assistant to the storied literary agent for J. D. Salinger. She spends her days in a plush, wood-paneled office, where Dictaphones and typewriters still reign and old-time agents doze at their desks after martini lunches. At night she goes home to the tiny, threadbare Williamsburg apartment she shares with her socialist boyfriend. Precariously balanced between glamour and poverty, surrounded by titanic personalities, and struggling to trust her own artistic instinct, Rakoff is tasked with answering Salinger's voluminous fan mail. But as she reads the candid, heart-wrenching letters from his readers around the world, she finds herself unable to type out the agency's decades-old form response. Instead, drawn inexorably into the emotional world of Salinger's devotees, she abandons the template and begins writing back. Over the course of the year, she finds her own voice by acting as Salinger's, on her own dangerous and liberating terms.

Rakoff paints a vibrant portrait of a bright, hungry young woman navigating a heady and longed-for world, trying to square romantic aspirations with burgeoning self-awareness, the idea of a life with life itself. Charming and deeply moving, filled with electrifying glimpses of an American literary icon, My Salinger Year is the coming-of-age story of a talented writer. Above all, it is a testament to the universal power of books to shape our lives and awaken our true selves.
My rating:
4 of 5 stars
This memoir is about a smart young woman embarking on her real world role. She works at a literary agency that is quaint, old fashioned (to an extreme!), and completely magical. I had a similar trajectory to Joanna, and so, this book reminded me of life about 10 years ago when I went to work at Random House in their Children's Book marketing group and had the time of my life. Her story is accurate in its details: the poverty of working in publishing, the quixotic element of bringing beautiful things to life, the magic behind books and authors that even those working at publishing houses subscribe to. Even Joanna's hope to become a writer one day is something most editorial assistants would admit to. I loved this book for accurately reflecting that life and bringing a new element to it—the literary agency world. Joanna is dating a terrible guy, living in a terrible apartment, losing her best friend because their priorities have changed, but in the midst of it all, she is responding to Salinger's fans in this dark, old fashioned, typewriter laden land of "The Agency." She starts to realize what she wants out of life and you get to see her on this journey. I found the book completely readable and it captured me, but that's partially because of my experience in publishing.
10 years out of college I've been reflecting on life since school. Publishing still stands out as a place where I fit. A place that I loved. A place filled with people I still respect and enjoy great friendships with. I loved this book because I am nostalgic for NYC, for the days when I would speed read a manuscript and brainstorm marketing ideas to submit in a bidding war, for the proximity to people who inspired me (everyone from the publisher, to the editor, to the book jacket designer, to the public relations team, to the copy editor had that effect on me when I loved a book). I'm nostalgic for having no money, so getting together with some editors and designers and drinking cheap wine and giggling at the Olympics at someone's apartment. I remember walking with Ruth, my bosom buddy / an editorial assistant at the time for Wendy Lamb Books. We were on the UES, between our apartments. We'd probably just been to a movie or were window shopping at Banana Republic on Third. We ran into an author who knew Ruth from the editing process and they said hi. Hers was a book I fought for in the marketing meeting when we vie for funding. I had LOVED it and thought it was such a special gem—First Light by Rebecca Stead. Ruth introduced me by telling this author how much I loved her book and I was struck dumb—giant smile, just completely adoring this woman who put words on a page in a way I loved. Her next book won the Printz Award and I was rooting for her from far away in my next life step in Boston. I'm nostalgic for that life and this book came at the exact time I was reflecting on that life. This book brought me right back and made me smile, so for that, I'm grateful.
View all my reviews