Margin Notes: Delancey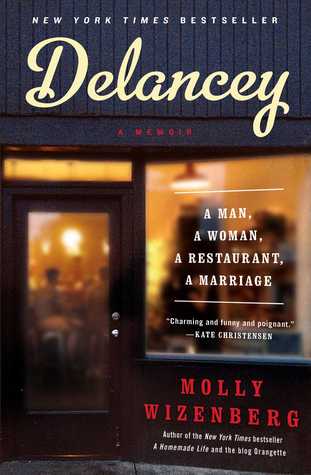 In this funny, frank, tender memoir and
New York Times
bestseller, the author of
A Homemade Life
and the blog Orangette recounts how opening a restaurant sparked the first crisis of her young marriage.
When Molly Wizenberg married Brandon Pettit, he was a trained composer with a handful of offbeat interests: espresso machines, wooden boats, violin-building, and ice cream making. So when Brandon decided to open a pizza restaurant, Molly was supportive not because she wanted him to do it, but because the idea was so far-fetched that she didn't think he would. Before she knew it, he'd signed a lease on a space. The restaurant, Delancey, was going to be a reality, and all of Molly's assumptions about her marriage were about to change.
Together they built Delancey: gutting and renovating the space on a cobbled-together budget, developing a menu, hiring staff, and passing inspections. Delancey became a success, and Molly tried to convince herself that she was happy in their new life until in the heat and pressure of the restaurant kitchen she realized that she hadn't been honest with herself or Brandon.
With evocative photos by Molly and twenty new recipes for the kind of simple, delicious food that chefs eat at home,
Delancey
is a moving and honest account of two young people learning to give in and let go in order to grow together.
My rating:
4 of 5 stars
I really enjoyed reading this memoir. Molly Wizenberg's voice was warm, funny, inviting, apprehensive, worried, human. This book follows her life with her husband as he, and eventually they, open a pizza restaurant on the west coast (Seattle) called "Delancey."
(view spoiler)
[For me, the structure of this book seemed to be essays that dropped into a timeline of the launch of the restaurant. It charted the ups and downs of both the research and build of the restaurant, and the ups and downs of Molly's marriage. I enjoyed the layout because it let us dip in and out of the high points of the launch and get some basic details that brought the story to life--finagling the pizza oven into the building, how red pepper flakes get in all of the cracks, that in cooler weather pizza dough is left to rise on top of the fridge where it's warmer and on hot days it's lugged to the Wizenberg basement to slow the rise. I loved going on tours of the various spaces they almost got for Delancy. The chew of the perfect crust. The beauty of the composed salad. The fear and heartbreak of being on the edge of losing it all. Molly in tears at her station in the kitchen. I loved learning about specific people who influenced the launch--their friends like "the oracle" who helped them create a culture they could be proud of, their friends who helped design the space, the friend who stepped in as a pastry chef and the friends who helped keep their spirits up. I wish there was a little more depth when it came to some of these, and just more of the portraits in general, they were so interesting.
(hide spoiler)]
I didn't find this quite as moving as Blood Bones and Butter, but I did enjoy it all the same. I seemed to connect better with the passions of Gabrielle Hamilton, but I think that's also due to the different structures of the stories.
I loved that this book came with recipes. I have a few book marked to try out, and I tried the brownies last night--really great. Had to give them away! I can't wait to try the sriracha shrimp, the salads, pretty much everything.
I recommend this to anyone who has dreamed of opening a restaurant, or just thinks learning about one would be interesting. But, it's not just about opening a pizza joint, it's about community, marriage, and getting past fear to greatness.
View all my reviews
Molly's Blog
Delancey's Web site
The
Brownie
recipe, the
Shrimp Sriracha recipe